Isaac Newton's original Color Wheel correlation with Music displays the Godtype Continuum
---

The Following Illustration is simply conjecture….  But I could not help but "See" the Godtype Continuum (1,5,4,2,1) (41.66%, 33.33%, 16.66% and 8.33% resonate)  frequencies and ratio's within the classic illustration drawn by Isaac Newton in which he attempted to visualize how  his research into the primary colors of light had ABSOLUTE correlations with what he understood  of music theory.   Newton realized that the 7 notes of music most of us learn in grade school seemed to correlate with the distribution of colors he extracted from an invisible beam of light!
The Godtype Continuum is also encoded in the Bible!  see how Genesis 50 Chapters, Exodus 40 Chapters, John's first 20 Chapters and the only two books with 10 Chapters each Esther (meaning hidden and doubled) and Ezra    10,50,40,20,10 …… they have 3600 Chapters…..  Compute to PI to 7 Digits when factored by God's limiting of Time and Energy in Genesis 6:3……  See our Research Here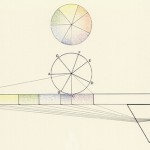 The following Illustration is actually Isaac Newton's original black and white drawing with the added "Red" – "yellow orange" -"Blue" and "Purple-Violet" of Godtype to show that the ratio's of color, light and Godtype's (cognitive types) seem to be patterned in the same sequence.  With the same ratios.  With the same colors!   Please study the original Godtype time map we have also  posted below –  it will help you understand  the "Time" connections of Godtype that by coincidence match these 250+ year old amazing and intuitive discoveries of Isaac Newton  tying in the "Patterns" of  Music and Light.   Can it be that there is a 3rd correlation?  Is not human cognition designed in these same patterns as well…….
Godtype original Intuitive Illustrations correlating human cognition with Time and the Judeo-Christian scriptures.
Godtype Frequency simply points to the amount of personality types within the human population.  This was a dream that woke me up shouting that David Kearsey, (the preeminent American Psychologist known for his lifelong study of human personality) WaS RIGHT ! – His documented percentages of type on earth correlate with TIME.   Sure enough research of his two books showed his research claiming that SJ's made up about 5 in 12 persons…. SP's 4 in 12….. NF's 2 in 12 and NT's made up only 1 in 12 persons on earth…. A resonate frequency of 8.33%!
Posted by
admin
on Sep 30 2014. Filed under
8.33%
,
Milton Thomas X
. You can follow any responses to this entry through the
RSS 2.0
. Both comments and pings are currently closed.